'RED HOT & RICH' Featuring the Music and Life of Cole Porter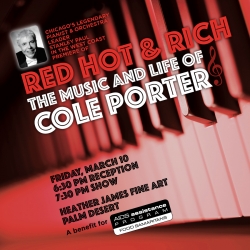 Chicago's legendary pianist and orchestra leader Stanley Paul will bring his lively and fascinating show "Red Hot & Rich" to the Coachella Valley on Friday, March 10 with a reception at 6:30 p.m. and show at 7:30 p.m. at Heather James Fine Art, located at 45188 Portola Avenue in Palm Desert. Throughout Paul's five-decade career, he has been fortunate to have enjoyed intimate moments with dozens of music and entertainment legends, including Bette Davis, Judy Garland, Frank Sinatra, Lauren Bacall, Gloria Swanson, Carol Channing, Liberace, Joan Crawford, Ethel Merman, and Oprah Winfrey among many, many more. In this West Coast Premiere performance, Paul will feature more than 30 legendary Cole Porter songs in a fast-paced and stunning presentation that presents the songs in the manner in which they were originally produced.
Limited tickets for this event (which includes cocktails, hors d'oeuvres and show) are $125 and may be purchased by calling (760) 325-8481 or clicking below. All proceeds will benefit AAP – Food Samaritans.
Stanley Paul – now a resident of Palm Springs - will take the audience back to the glamorous lifestyle of Cole and Linda Porter in Paris and Venice in the 1920s to Broadway and Hollywood in the 1930s and 1940s. Paul will share colorful stories about Porter and his incredible career, and will leave the audience mesmerized by the genius that was Cole Porter. As Paul says, "We think Cole would have approved."