25th Annual Evening Under the Stars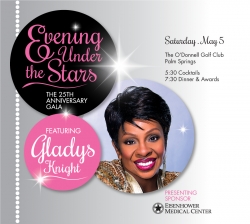 Gladys Knight will be the headline entertainment for the 25th annual Evening Under the Stars gala, to be held on Saturday, May 5, 2018 at the O'Donnell Golf Club in Palm Springs. Gladys Knight is a seven-time Grammy Winner and one of the greatest singers of our time. Her Billboard Number 1 R&B Singles include: "Midnight Train to Georgia," "That's What Friends are For," "You're the Best Thing That Ever Happened to Me," "Neither One of Us (Wants to Be the First to Say Goodbye)," "I Heard it Through the Grapevine," and "If I Were Your Woman."
Gladys Knight is one of greatest singers in the world, period. Evening Under the Stars is not only a great fundraiser, it's also a great show. This year, as we celebrate the 25th Anniversary of this iconic Palm Springs event, we'll pull out all the stops to make it extra special.
Evening Under the Stars gala festivities will begin with an extended sunset cocktail hour on the grounds of the O'Donnell Golf Club against a backdrop of the majestic San Jacinto Mountains, widely regarded as one of the most festive cocktail receptions of the season. A short awards program will recognize a few inspirational honorees (CLICK HERE), followed by a delicious dinner, and the performance by Gladys Knight.
Evening Under the Stars is the largest annual fundraiser for AAP – Food Samaritans, a non-profit organization that provides nutritional support for low-income people living with HIV/AIDS and other chronic illnesses.
For more about Gladys Knight, please CLICK HERE
Tickets are now available for purchase online!
General Seating $395
Preferred Seating $500
VIP - Blue Tier Seating $1000
VIP - Red Tier Seating $1500
VIP - Green Tier Seating $2500

2018 Suggested Attire: Festive, elegant attire in silver and pink. Be creative!
For tables and other ticket levels, please contact us at (760) 325-8481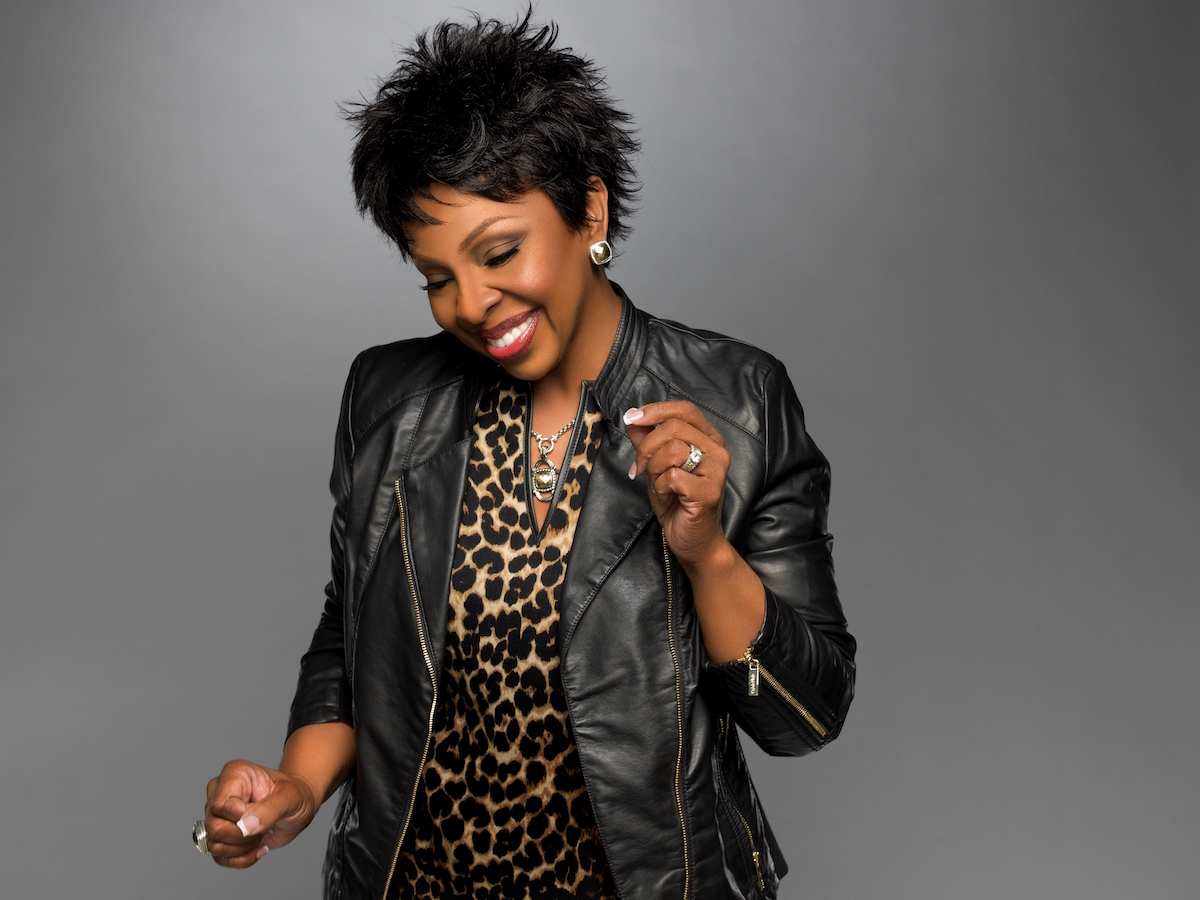 Gladys Knight - The Empress of Soul
The great ones endure, and Gladys Knight has long been one of the greatest. Very few singers over the last fifty years have matched her unassailable artistry. This seven-time Grammy winner has enjoyed #1 hits in Pop, Gospel, R&B and Adult Contemporary, and has triumphed in film, television and live performance.
Knight, known as the "Empress of Soul," a longtime Las Vegas resident, returned to the Strip in the late-2000s to the famed Tropicana Hotel for a special engagement that ran in the newly named Gladys Knight Theater, making her the first African-American performer to have a venue named after her in Las Vegas. This followed a successful four-year show run at The Flamingo, which the Las Vegas Review-Journal praised as "the number-one show on the Strip." A tireless humanitarian, Knight is an iconic supporter of the Boys & Girls Club of America, to which she donated a Randy Jackson- produced song, "The Dream." As the celebrated singer of the timeless song "Midnight Train to Georgia," Knight was a natural fit as national spokesperson and host of Amtrak's National Train Day, the celebration of which took place Washington, DC's famed Union Station.
In February 2011, Knight reunited with Elton John, Dionne Warwick, and Stevie Wonder for the first time in 25 years to perform their Grammy-winning song, "That's What Friends Are For" at an AIDS research benefit in New York. Adored the world over, Knight then toured across the UK, performing at packed arenas that included a sold-out performance at Wembley Stadium.
No stranger to performing and light choreography over the course of her career, Knight raised the stakes when she put on her dancing shoes in the spring of 2012 when she joined the cast of ABC's hit reality competition "Dancing with the Stars," partnering with Tristan MacManus.
In her first effort since 2013's "Another Journey" – Knight's 8th solo effort – this summer marked the release of "Where My Heart Belongs", a new inspiration gospel album. Knight is a two-time Grammy winner in the gospel category, and "Where My Heart Belongs" dropped on September 9th from Deseret Book, and recently won an NAACP Image Award for "Outstanding Gospel Album." "Another Journey" enjoyed success from the hit "I Who Have Nothing" as well as the up- tempo track "Settle," produced by Randy Jackson, with whom she previously collaborated with on her Grammy-winning album, "At Last." Knight also enjoyed the success of her song "You and I Ain't Nothin' No More" which appeared over the end credits of the critically-acclaimed Lee Daniels film The Butler.
THE BACK STORY – GLADYS KNIGHT AND THE PIPS:
The group known as Gladys Knight and the Pips debuted their first album in 1960 when Knight was just sixteen. With Knight singing lead and The Pips providing lush harmonies and graceful choreography, the group went on to achieve icon status, having recorded some of the most memorable songs of the 1960s, 1970s and 1980s. Top 20 hits, like "Every Beat of My Heart," "Letter Full of Tears," "I Heard it Through the Grapevine" and "If I Were Your Woman" set the stage for an amazing run in the mid-1970s, with Top 10 gold-certified singles like "Neither One of Us (Wants to be the First to Say Goodbye)," "I've Got to Use My Imagination," "You're the Best Thing that Ever Happened to Me" and the #1 smash "Midnight Train to Georgia" established Gladys Knight and The Pips as the premiere pop/R&B vocal ensemble in the world. The party kept rolling with hits like "On and On" from the Academy Award nominated soundtrack of Curtis Mayfield's "Claudine," the 1974 comedy about love in the inner city. She and Stevie Wonder sang together again for the successful Frank Sinatra Duets II album, joining his voice for the song "For Once in My Life" in 1994. All told, Knight has recorded more than 38 albums over the years, including four solo albums during the past decade.
Posted 2 hours ago, updated 2 minutes later